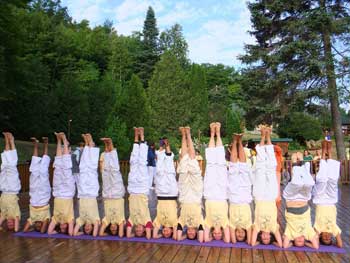 Hatha Yoga Headstand
September 2, 2019 @ 8:00 am
-
6:00 pm
Learn Headstand
Master one of yoga's most powerful yoga postures. Headstand, often called "King of Asanas". It is best known for its many profound spiritual, physical, and mental benefits. To learn headstand (Sirsasana) safely, it's best practiced stage-by-stage.
8 Simple Steps
In this workshop you will learn to systematically progress your headstand through 8 simple steps. This gradual approach gives you a strong foundation to hold a headstand steadily and in correct alignment.
Join both Shahar and Jenny Miller for this workshop that is suitable for all levels, including those who are brand new to the headstand or intimidated by being upside down or falling.
Those who already have a headstand practice will learn to hold longer, stronger, and more comfortably, as well as to transition into other more advanced variations of the headstand.
"Sirsasana is really a blessing and nectar. Words will fail to describe it's beneficial results and effects. This is a panacea, a cure-all."
–Swami Sivananda
COST: By Donation