We believe in the Quality of the Practice.
Yoga teachers represent an ancient and sacred tradition.
And that is why we felt the need to create a new organization whose members will have the reputation throughout our state of truly "living their yoga" and practicing with grace and integrity.
With that in mind, we created the Florida Yoga Teachers Association Statement of Ethics which all members agreed to abide when joining.
We began as Suncoast Yoga Teachers Association in 1983.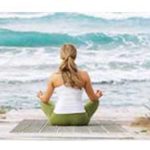 A small and dedicated group of yogis and yoginis wanted to promote and improve the quality of Yoga being taught in the Tampa Bay.
As we continued to grow and evolve, we realized that we had many members from throughout the state, so in 2017 we formally changed our name to Florida Yoga Teachers Association.
Over the years, FYTA and SYTA developed a rich history of teachers sharing their various styles of teaching with each other and later hosting internationally known master teachers in the Tampa Bay area. Our semi-annual weekend workshops gave our members and the community access to the best yoga education without the need to travel very far from Tampa Bay.
FYTA Hosted Internationally Known Master Teachers For Our Continuing Education
---