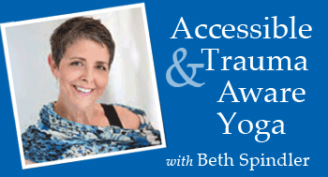 Accessible & Trauma Aware Yoga
September 6, 2019
-
September 8, 2019
Accessible & Trauma Aware Yoga with Beth Spindler
This Workshop Offers Accessible Training:
Bring those who fear that "yoga is all about achieving poses" to the studio safely.
Age, weight, joint, neural and spinal issues should not be prohibitive for students.
Encourage students to come and learn the great benefits of yoga.
This Workshop Offers Trauma Aware Training:
Trauma training deals with PTSD, triggers and how yoga heals.
Learn how to incorporate trauma sensitive yoga to every class
Bring laughter and joy to yoga class, as students heal deep seated issues.
Beth Spindler, C-IAYT, ERYT500
Beth Spindler a yoga therapist, teacher, and published writer on yoga related subjects. A frequent contributor to YogaInternational.com, she has offered yoga therapy in hospitals, clinics, and schools and has been on staff as a yoga therapist at the Himalayan Institute, Omega Institute, and in centers for addiction and recovery.
Cost and Times:
Entire Workshop (Regular): $200
Entire Workshop (Member Rate): $185
Individual Sessions: $55 each

Accessible Yoga 1 Friday Evening
Accessible Yoga 2 Saturday Morning
Trauma Aware Yoga Saturday Afternoon
Yoga Therapy for Fear Sunday Morning
Register Now!
Want to attend the Event?
Accessible & Trauma Aware Yoga Registration
For more information, including Friday, Saturday and Sunday Session Information, Hotel Accommodations and lots more details,
Please Download the PDF Handout: