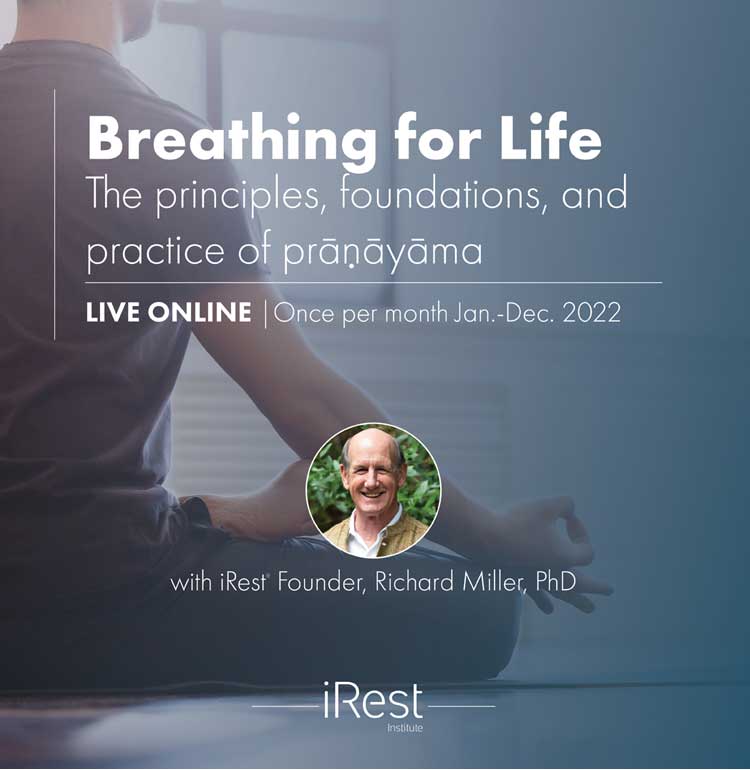 Breathing for Life: the Practice of Prāṇāyāma
January 25, 2022 @ 3:00 am
-
December 22, 2022 @ 12:00 pm
Breathing for Life: The Principles, Foundations, and Practice of Prāṇāyāma with Richard Miller
Course Dates:
This event will be hosted 1x month on a Tuesday from January – December 2022 online Streaming. All sessions will be held from 5 – 7 p.m. Florida East Coast Time.
Tuesday, January 25, 2022
Tuesday, February 1, 2022
Tuesday, March 1, 2022
Tuesday, April 5, 2022
Tuesday, May 3, 2022
Tuesday, June 7, 2022
Tuesday, July 5, 2022
Tuesday, August 9, 2022
Tuesday, September 6, 2022
Tuesday, October 4, 2022
Tuesday, November 1, 2022
Tuesday, December 6, 2022
Harnessing your breath and life force is both an art and a science. In this in-depth 12-month course, you'll learn the principles and practices for engaging in an informed, regular, and sustained practice of prāṇāyāma (breathwork).
The practice of prāṇāyāma awakens and strengthens the resilience of your body, mind, emotions, and spirit. It balances your energy and supports your health, healing, and well-being.
You'll explore the underlying philosophy, theory, structure, energetics, and in-depth practices of prāṇāyāma.
You'll learn:
• The anatomy, psycho-physiology, and neuroscience of respiration
• The foundations of prāṇāyāma for health, healing, yoga therapy, and meditation
• A safe and sustainable way to develop your own practice of prāṇāyāma that's aligned with your personal intentions and physical, mental, and spiritual wellbeing
• The underlying philosophy of prāṇāyāma
• A multitude of prāṇāyāma techniques that support health, wellbeing, healing, and awakening to your Essential Nature
• How to share these practices with others
You can expect:
• 12 monthly two-hour live online Zoom classes with Richard
• Each class to include a live lecture, guided prāṇāyāma practices and a Q&A session to help you build a successful and sustained personal practice
• Self-paced, at-home learning
• An online support forum
• Recordings of each session to be available during the entirety of the course
• A comprehensive manual, handouts, and suggested between session readings and home practices
• Approximately 24 hours of continuing education for various organizations
Pricing Schedule:
$799 – Early Bird Pricing available 9/1/2021 – 10/24/2021
$999 – Regular Pricing available 10/25/2021 – 11/23/2021
$699 – Season of Giving Sale Pricing available 11/24/2021 – 12/1/2021
$999 – Regular Pricing available 12/2/2021- 1/25/2021
SIGN UP PAGE: REGISTRATION