Yoga and Meditation Techniques for Trauma & Chronic Stress
Annie Okerlin and her Exalted Warrior Foundation taught Florida Yoga Teachers Association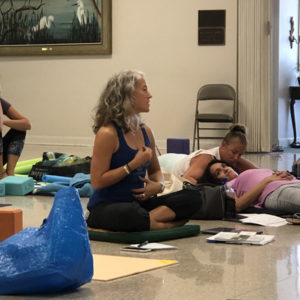 Annie Okerlin and her Exalted Warrior Foundation taught adaptations to Florida Yoga Teachers Association on October 12-14, 2018 at the Garden Club of St. Petersburg, Florida.
Annie Okerlin began teaching in 1999 as a Certified Bikram Yoga Instructor. Annie knew what her path forward would be: sharing the benefits of yoga with others.  Her students were from all walks of life including athletes and housewives. She's worked with Shiva Rea, another yogini who gives back to so many. Annie knows that we all carry some sort of trauma. Injuries can be especially difficult in first responders and soldiers. In 2008 she founded the Exalted Warrior Foundation. Her energy and compassion led her to develop nation-wide programs to help the reintegration of service members back into civilian life.
Annie's Exalted Warrior Foundation brings yogic healing to wounded veterans throughout the military population and within Veterans hospitals. Annie is one of the nation's leading experts on Adaptive Yoga. Amputees, burn victims, those with traumatic brain injuries, spinal cord injuries, sufferers from PTSD, depression and moral injury are helped with yoga designed for them. Annie is also an iRest Yoga Nidra instructor. Peace and sense of security are essential in working with this population. iRest Yoga Nidra brings safety and trust.
Yoga teachers can help the wounded by learning how to create trust.
After several days of training, attendees split up into groups. We demonstrated what we'd learned from Annie. First of all, provide a safe environment. Assure yoga students that their space is peaceful and caring. For example, Annie said quietly, "Close your eyes. You are safe. I have my eyes open to watch over you."
Learn to adapt teaching techniques to the needs of each student. For example, we considered how to best approach Wounded Warriors and First Responders. Annie shared suggestions and positive feedback for easing trauma, stress, and dealing with physical and emotional limitations. Practicing how to approach various situations made the importance of observation and patience all the more significant. We practiced, listened and learned. Each person will need a different, planned approach.
With renewed awareness of the power of yoga for healing body, mind, and spirit, we ended the weekend with Pranayama and Meditation iRest Yoga Nidra. Thank you so much, Annie Okerlin. You help so many. You made us more aware of the sacred trust and individualization all yoga students deserve from their teachers.
See a video showing highlights of this wonderful workshop on YouTube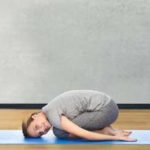 Balasana is a Hatha yoga posture, and its name comes from the Sanskrit word 'bala' meaning 'child'. In this pose, the body faces the floor in a fetal position. This is a beautiful and graceful sitting posture, and when the posture is complete there is a connection with the earth. Namaste'