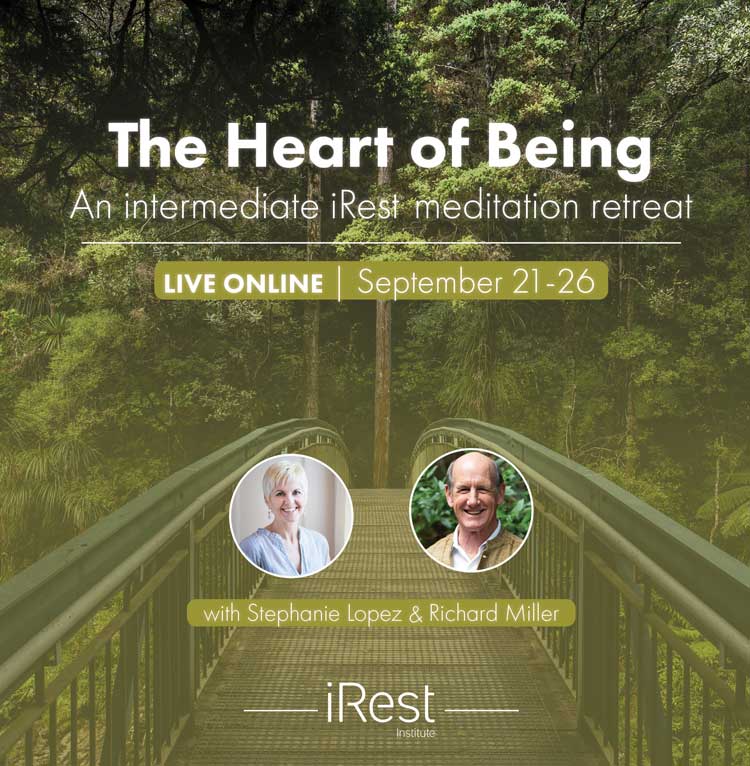 The Heart of Being: An iRest Meditation Retreat with Richard Miller & Stephanie Lopez
September 20
-
September 26
This five-day online meditation retreat is a chance to shift your focus away from a continual sense of doing to the inner stillness that arises when we surrender to pure Being. Retreat is an opportunity to turn inward and experience your fundamental nature of joy, equanimity, and loving kindness.
You can expect:
• Periods of meditation.
• Body and breath sensing yoga.
• Co-meditation and self-inquiry.
• Interactive dialogue.
You'll learn and experience:
• Welcoming sensations, thoughts, and events with the ability to respond, not react.
• Setting yourself free from self-judgment, shame, blame, guilt, and comparison.
• Opening into the heart-wisdom of acting with loving compassion.
• Body-based practices for recognizing and stabilizing yourself as 'Being'.
• Ways to enhance your ability to meet challenging emotions, thoughts, and life circumstances that inevitably arise during meditation and daily life.
• The embodiment of qualities like peace, love, compassion, joy, and self-kindness, that naturally blossom in meditation.
• Nourishment from sitting with community.
SIGN UP PAGE: REGISTRATION