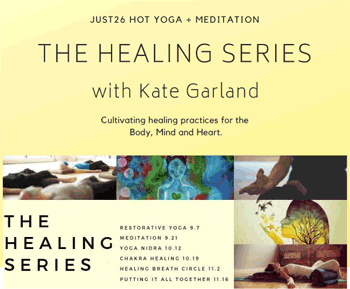 The Healing Series: 6 Workshops to Heal the Body + Heart
Hello! Just a little love note to personally invite you to the first, any, or all of my six upcoming workshops in Largo — The Healing Series.
These workshops are perfect for an individual brand new to yoga, a current practitioner who wants to deepen into the healing tools of Yoga, or a Yoga teacher looking to add profound tools to offer their students and classes.
Please feel free to share, and contact me if you have any questions at all.
You are welcome to attend single classes, and there is a 25% discount for those who want to attend all six.
Sending much love + gratitude, k.
This series is open to all, and will consist of six Saturday workshops, each introducing a new healing modality, and each building on the previous. Workshops can be taken individually, but students who enroll for the entire series receive a very special price. $50 class, or $225 for the entire Series. Sign up online at just26.com/new-events or in person at the studio.
Schedule of Workshops:
Restorative Yoga 9/7
Meditation 9/21
Yoga Nidra 10/12
Chakra Healing 10/19
Healing Breath Circle 11/2
Putting It All Together 11/16
14100 Walsingham Rd. Suite 15 Largo, FL
(727) 333-9600 email: [email protected]