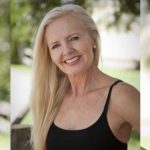 Wendy is the owner of Wendy Fit Yoga, Pilates and Personal Training Studio in Palm Harbor Florida. Wendy Fit Yoga is a certified 200 hour Teacher Training School since 2001. Wendy is also an RYT 500hr yoga instructor. She fell in love with the practice of yoga in the early 80's and began studying with Rodney Yee, Baron Baptiste, David Swenson and Beryl Bender Birch getting her certifications in Ashtanga and Power Yoga. Her passion for health and wellness took her quickly to Clinical Rehab work. The demand for Yoga as a tool for injury prevention and rehabilitation inspired Wendy to continue her education in Iyengar methods for proper alignment.
She continued her in-depth training and techniques using Yoga for stress relief and Meditation incorporating the need for proper breathing. Wendy began working with Special Needs clients to assist in rehabilitating from injuries and surgery getting certified in Pilates using the apparatus to assist in rehabilitating and/or preventing clients from injury. She has presented at a number of Health and Fitness Expo's and National Yoga Conventions over the past 10 years. In 2000 Time Warner Network, which later became Bright House, began airing Wendy's show "Yoga for the Healthy Mind and Body". It became very popular and is now running On Demand on Bright House 999 with over 50 segments to choose from.
Wendy graduated with a Bachelor of Arts degree from the University of South Florida College , majoring in Dance and minoring in Exercise Physiology. She is a STOTT PILATES ® Instructor . Physical Mind and Polstar continuing ed Wendy has completed many PEAK and STOTT PILATES ® Continuing Education courses specializing in Injuries and Special Populations.