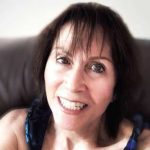 At 17 years of age, after a serious bout of flu and related weight loss I developed amenorrhea. At 22 my physician gave me this advice: read Let's Eat Right to Keep Fit and learn yoga. A diet of beneficial foods combined with yoga restored my health. As my awareness of the body/mind connection has grown, I've practiced Vipassana meditation with Steve Shealy, PhD and progressive muscle relaxation, learned through self study.
I have been a yogini since that very smart doctor steered me in that direction. At first I was self-taught reading every book I could find and taking every class available. Over the years I've studied with learned teachers such as Anita Simons, Rodney Yee, David Swenson, Kofi Buscia, Ray Long, Erich Schiffman, Roger Cole, Cyndi Lee,  & wonderful local teachers. I belong to Yoga Alliance as an E-RYT500 Registered Yoga Teacher. I am a past newsletter editor for Suncoast Yoga Teachers Association and serve on our Board of Directors.For over 16 years I've taught in many venues: Cheek Powell Wellness (including a presentation for Morton Plant/Cheek Powell Wellness to cancer survivors in Bradenton, FL), Lifestyles Family Fitness, Home Shopping Network, Belleair CC, McGough Nature Park, YMCA of both St. Petersburg and YMCA of the Suncoast, Largo Community Center, Indian Shores Town Hall and Indian Rocks Beach Yoga. I've been hired by individuals and companies to provide private instruction.
Presently I'm a substitute teacher since I am primary caregiver to my elderly mother who lives with me. I feel blessed to be able to care for her. When another teacher needs me to teach, I will arrange to help out. Meanwhile I helped create and now maintain our new, interactive website.
City: Largo, Seminole
Styles: Gentle, Hatha, Traditional, Vinyasa, Chair, Alignment Based