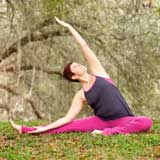 About Stacy
Stacy Renz is a:
Registered and Licensed Occupational Therapist (OTR)
Certified Yoga Therapist (C-IAYT)
Experienced Yoga Teacher (ERYT 500)
Owner of Living Room Yoga, LLC in St. Petersburg, FL
Stacy practiced yoga as a child and returned to the practice in her 30s as a means of stress and scoliosis management for herself. As she discovered the hidden gifts in the practice, she committed to sharing these gifts with others. Her mission was to put the tools of healing and wellness back into the hands of the individual.
Living Room Yoga
Stacy founded Living Room Yoga in 2000 when she began teaching her coworkers at Edward White Hospital. She went on to achieve her yoga therapy certification through Integrative Yoga Therapy and now through IAYT.
Values and Specialization
Stacy's most important values are:
Teaching from a place of kindness.
Making sure students feel seen, heard, and cared for.
Empower students to take charge of their health and lives.
Stacy Renz specializes in:
Addressing individual needs within the class setting.
Applying Yoga Therapy to health conditions, such as chronic pain and scoliosis.
Providing modifications for those working with injury.
Integrating various perspectives – Physiology, Chakras, Ayurveda, and Meridians – to help students progress to their highest potential.
Getting Current
Stacy is an occupational therapist at St. Anthony's Hospital. Stacy is working diligently to educate clinical staff regarding pain. She instructs staff on how to apply yoga and meditation as a means of non-pharmacological pain management.
Stacy is a continuing education provider through Allied Health Education, International Association of Yoga Therapists, Florida Board of Occupational Therapy, and Yoga Alliance.